Grahamstown lies at the heart of Frontier Country, making it an ideal base from which to explore this wonderful area.
Perhaps the most exciting tourism related happening of the past few years is the expansion of the Greater Addo National Park and the proliferation of Private Game Reserves to compliment our established National Parks. Visitors can now view Great White Sharks and Southern Right Wales as well as the Big Five or walk or cycle among teeming herds of antelope at a number of destinations, all within an hour's drive of one another. Our Game Reserves are spread amongst all the major habitats allowing visitors to view game in their preferred habitat; from the vibrant Rock and Surf environment to the tranquil River Estuaries, from the ever-changing coastal dunes to the dense, untamed Valley Bush Veldt or from the majestic Mountain Grassland to the wide open plains of the Great Karoo.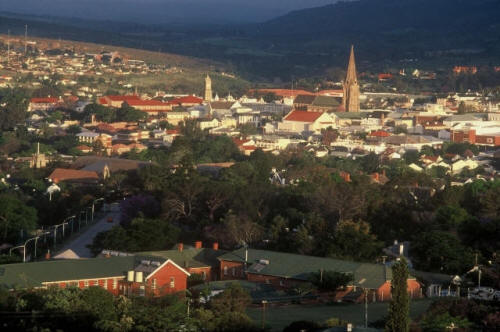 Grahamstown information centre details
63 High Street Grahamstown, 6139
Tel +27 (46) 622 3241
Fax +27 (46) 622 3266
Cell 082 776 3633
Historical Tours
ALBANY MUSEUM COMPLEX
Established 1855. The Albany Museum Complex comprises five museums and is the second oldest museum in the country. The Museum Complex has an Education Department which provides resources and educational programmes in cultural studies, history and the natural sciences. A Mobile Museum service offers portable exhibits, resource packs and objects for curriculum-based studies. An education programme is printed yearly and is available on request. Identification services, public lectures, film shows, open days, walking tours and special events are offered throughout the year. The original Albany Museum was established in 1855 by the Graham's Town medical-Chirurgical Society (later the Literary, Scientific and medical Society). The Museum has grown into a complex of separate museums which document the full spectrum of the social and natural environment, with particular reference to the Eastern Cape. The components of the Complex are : the Natural Science Museum, the History Museum, the Observatory Museum, the Provost Prison and Fort Selwyn.
www.ru.ac.za/affiliates/am

EASTERN STAR GALLERY
Established 1985. (A satellite of the National English Literary Museum).
4 Anglo African Street, Grahamstown.
Tel : (046) 622 7042

The Eastern Star gallery takes its name from a newspaper established in Grahamstown in 1871 which was the forerunner of the Argus Company's famous present-day daily, The Star of Johannesburg. Initially it was believed that the Eastern Star had been produced in the building which is now the museum, but subsequent research has shown that it dates back to the 1860's and has no direct connection with the Eastern Star. The restored 120 year-old Wharfdale printing press is a sister model to the one on which the Eastern Star was produced between 1871 and 1887. The Museum features printing machinery and other historical items related to printing, including John Fairbairn's editorial desk.

HISTORY MUSEUM
Established 1965. (A component of the Albany Museum Complex, formerly the 1820 Settlers' Memorial Museum).
Somerset Street, Grahamstown.
Tel : (046) 622 2312
The History Museum formerly focused on the contribution of the 1820 British Settlers and their descendants to the history of Southern Africa, but it now encompasses all the peoples who live - or have lived - in the Eastern Cape. Its collections cover agricultural equipment, domestic furniture, costume and textiles, ceramics, glass, silver, toys and dolls, militaria, medals, coins, documents and genealogical information relating to the British Settlers. The ethnographic collection focuses on Southern Nguni Peoples and features the traditional dress of the amaXhosa. There is a small art collection of paintings by F T I'ons and T Baines and a classical archaeological collection which emphasises Ancient Egypt and shows a well-preserved mummy.
(all times to be confirmed)
Hours :Tuesday-Friday 09h30-13h00, 14h00-17h00
Saturday 09h00-13h00
Closed Christmas Day, New Year's Day, Good Friday, Workers' Day.

NATURAL SCIENCE MUSEUM
Established 1855. (A component of the Albany Museum Complex).
Somerset Street, Grahamstown.
Tel : (046) 622 2312
The Natural Science Museum is the oldest component of the Albany Museum Complex with a theme covering natural science and the natural history of the Eastern Cape. Earth sciences, archaeology, insects, birds, mammals, and plants are included. Notable items in the collection include a portion of the Gibeon meteorite, a working Foucault pendulum and a reconstruction of the first dinosaur discovered in South Africa, stegosaur paranthodon africanus. Research conducted at the Museum embraces the earlylife histories of freshwater fishes, water quality and management, wasp behaviour, late Stone-age and early iron-age peoples and their life-styles. The Range and Forage Institute operates in the Museum.

(all times to be confirmed)
Hours :Tuesday - Friday 09h30-13h00,14h00-17h00
Saturday 09h00-13h00
Closed Christmas Day, New Year's Day, Good Friday and Workers' Day.

OBSERVATORY MUSEUM
Established 1982. (A component of the Albany Museum Complex).
10 Bathurst Street, Grahamstown.
Tel : (046) 622 2312
This building was originally a 19th Century jeweller's shop and family home. Its connection with the identification of the Eureka, South Africa's first authenticated diamond, in 1867, prompted De Beers Consolidated Mines Limited to purchase the building and restore it in 1981-1982, to commemorate the beginnings of the country's diamond industry. It was opened on 2 February 1982 by Mr H F Oppenheimer of De Beers, and was formally presented to the Museum Trustees to become part of the Albany Museum's Cultural History division. The original owner-designer of the Observatory, Henry Carter Galpin, was a watchmaker and jeweller who lived in Grahamstown from 1850 until his death in 1886. His special interests - optics, astronomy and the measuring of time - are impressively reflected in this gracious multi-storeyed building. In the topmost tower is the only Victorian Camera Obscura in the Southern Hemisphere. Through the system of lenses and mirror in the revolving turret in its roof, this ingenious device projects an enchanting full colour live panorama of the town and its activities onto a flat viewing surface in a darkened room. Beneath it, Galpin built a Meridian Room where he could ascertain the precise time of local noon - 14 minutes behind South African standard time. The nearby Telescope Room contains his 8-inch reflector telescope which was initially installed in the rooftop observatory, from which the house got its name. On the Victorian Floor, five rooms of fine furnishings recapture the atmosphere of an upper middle class home of the time. Display panels detail the award-winning restoration project which returned the building to Galpin's original plan. The Diamond Story display tells the story of the identification of South Africa's first authenticate diamond and a full-size replica of the Eureka diamond is its sparkling focal point. In the basement a Victorian kitchen and dining room have been restored and a herb garden adds interest out-of-doors.

(all times to be confirmed)
Hours :
Monday-Friday 09h30-13h00, 14h00-17h00
Saturday 09h00-13h00
Closed Sundays, Good Friday, Workers' Day, Christmas Day, New Year's Day.

Tours and Transport
SPIRITS OF THE PAST - Alan Weyer
It's a story that must be heard - a past that captures the imagination of visitors, and the idea that somehow, we all have an ancient and personal investment in the area that explains its magic - of frontier wars, pioneering spirits and heroic people bound together by indomitable determination and gritty humour.
During the 1800's the intrepid British Settlers, Irish immigrants and European explores left their shores to begin a new life on the southernmost region of the African continent - region of the spiritual San people and mighty amaXhosa. What awaited them in this region of wide horizons eclipsed their wildest imaginings.
Recapture the Spirits of the Past with renowned historian and raconteur Alan Weyer, whose captivating narrative of this region's proud history of spectacular battles and courageous people will add a new dimension to a visit to the Eastern Cape.
Combined with a visit to one of the region's magnificent game/nature reserves, this is an opportunity not to be missed.

Contact Alan Weyer:
+27 (0) 46 622 7896
082 825 2685
info@spiritsofthepast.co.za
www.spiritsofthepast.co.za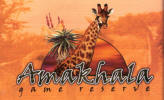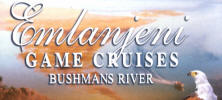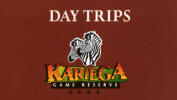 Arts and culture
Arts and Crafts abound in the Makana area, there are a number of Art galleries in the town, as well as several crafters who produce works ranging from bead work to leathe work. Even outside festival times the area has several cultural events on an ongoing basis be they organ recitals, live music, plays and exhibitions. Crafts made by local crafters can be purchased in Church Square and under the Drosdty Arch.
NATIONAL ARTS FESTIVAL - 30 June - 10 July 2011

Visit the official website of the National Arts Festival!
http://www.nationalartsfestival.co.za

Organised by the Grahamstown Foundation, Africa's largest and most colourful cultural event offers a choice of the very best of both indigenous and imported talent.
Every year for 15 days Grahamstown's population almost doubles, as over 50 000 people flock to the city for a feast of arts, crafts and sheer entertainment. Every hall or large room becomes a theatre, parks and sport fields become flea markets, normally quiet streets have to be managed by an army of temporary traffic wardens, and every available bed in the city is booked. The festival offers more than 500 shows from opera, cabaret, drama and jazz to stand-up comics and folk music.

While many come to take in the arts, others simply want to be here for the spectacle or to market products ranging from tie-dyed T-shirts and woven rugs to handmade jewellery and customised telephones. The festival operates out of the 1820 Settlers National Monument and is organised by the Grahamstown Foundation.

SCIFEST AFRICA
SciFest Africa, the national science festival, is held annually in Grahamstown in March and aims to promote a culture of science in South Africa in a festive way. The festival started in 1997 and is a project of the Grahamstown Foundation. SciFest Africa continues to grow in size with the 2009 festival boasting over 68 000 visitors.The week-long festival features over 500 events and activities for everybody, no matter their age or profession. The make-science-fun events include popular lectures, interactive exhibitions, workshops, educational theatre, field trips, a soap box derby, laser show, high school quizzes, science olympics, science shows, tours and a filmfest.
SciFest Africa is sponsored by Sasol Limited, Old Mutual South Africa, the Department of Science and Technology and SAASTA.
For more information, contact the SciFest Africa office: 046 603 1106 or visit their website www.scifest.org.za
NATIONAL SCHOOLS FESTIVAL - 04 - 08 July 2010
This annual event is organised by The Grahamstown Foundation. Pupils are given and opportunity to experience a carefully structured programme of Arts and English related activities designed to empower them by developing their skills of communication, and by encouraging them to nurture and explore their own creative potential.
To find out more about this exciting festival visit the official Schools' Festival website http://www.foundation.org.za/schoolsfest/
Tel: 046 603 1107.
GRAHAMSTOWN FLOWER FESTIVAL 23 - 24 October 2010
The Grahamstown Flower Festival , under the auspices of the of the Albany Horticultural and Lillium Society, The Grahamstown Garden and Home Club. the Botanical Society and Pam Golding Properties will offer and exciting programme consisting of a flower competition, garden stalls, a Spring School of workshops, a garden competition, visits to open stately homes and gardens, a Tea Garden and picnic hampers and music and entertainment for the whole family.
For more information contact Sharon Richner
+27 46 603 8444
info@grahamstownflowerfestival.co.za
www.grahamstownflowerfestival.co.za
Grahamstown boasts some of the finest schools, colleges, universities and educational institutions to be found in South Africa
Rhodes University - Where Leaders Learn
Rhodes University owes its unique character among South African universities to a combination of factors - some historical, some geographical, some cultural and some architectural. An important influence in this respect is the university's smallness which, together with its residence system, allows unusually close contact between students and their lecturers, in surroundings that foster fellowship and learning. Small classes mean more personal attention and encourage greater involvement of students in their work. The end result is that successive generations of Rhodes graduates have had an influence on southern Africa and world affairs out of all proportion to their small number.
THE DIOCESAN SCHOOL FOR GIRLS
Founded in 1874 by Bishop Nathaniel Merriman, DSG is one of the oldest girls' schools in the country. Situated in spacious grounds in Grahamstown, its campus adjoins its brother school, St Andrew's College.
ST ANDREW'S COLLEGE
Founded in 1855, St Andrew's College in Grahamstown is an innovative independent school that embraces new frontiers. This premium Anglican boarding school caters for 450 pupils from across the globe.
GRAEME COLLEGE
A leading public school with boarding facilities.
Website: www.gc.ecape.school.za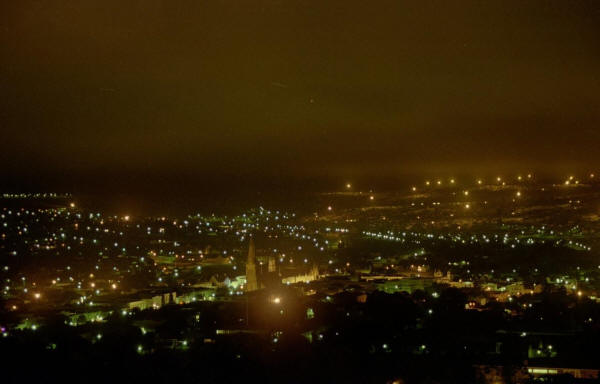 Food and entertainment
Gino's Italian Restaurant and Take-Aways
Entrance is from Hill Street parking area
137 High Street, Grahamstown

Mad Hatters
118 High Street, Grahamstown

Roxbury Theatres
Peppergrove Mall, African Street
Tel : (046) 622 3440
Fax : (046) 622 8368
http://www.roxbury.co.za
Screenings throughout the day of the latest movie releases

The Calabash Restaurant
123 High Street, Grahamstown, 6140

The Rat & Parrot
59 New Street, Grahamstown
Tel : (046) 622 5002 / 59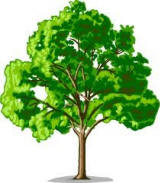 e-mail : acorn.cottage.bnb@gmail.com